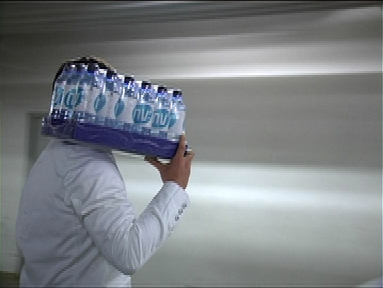 Doubt is the modern man's most faithful companion. But now everyone can get rid of even the most existential doubt in life – NV ® (New Value) is the answer to all your prayers.
Too long the art has felt as its primary function is to ask questions, problematize and provoke. But now, five artists say no! They will give answers instead. They believe that modern man needs clear guidelines and an ethical reference point in their lives. Someone needs to stand up and say: "We have the answers." With 'New Value ®' they have created a set of values that everyone can enjoy. Consistency force for us as people and nation.
The art of seduction
New Value is clever, funny and much-needed satire … The video artist Helle Lyshøj is the woman in NV in charge of presentation technique and she shows the idealistic, staged lifestyle of the NV-people in video clips already at the entrance, and later she shows us the worldwide network of New Value.

Vibeke Wern, Berlingske Tidende (a Danish newspaper) 2006
It's stand-up dance with catchy tunes and live video. It is mysterious ritual moods. The workshops, which expands the audience's spiritual experience. Yes, there is even a wheel of fortune with unique NV-prizes that really gives the audience something to take home with them. In a satire on the values and power to posess them.
The performance is staged as an opening event for the first NV-shop in Denmark. Anyone with an open purse and mind can buy accessories here for their new, more valuable life.
Projektioner på et 8×6 mtr. back-drop samt mobile skillevægge og foamboards
https://hellelyshoj.com/wp-content/uploads/nv-vand.jpg
288
383
helle
https://hellelyshoj.com/wp-content/uploads/titel-hjemmesidesort-2.png
helle
2007-10-26 21:27:07
2023-02-18 10:44:59
NV® (New Value)