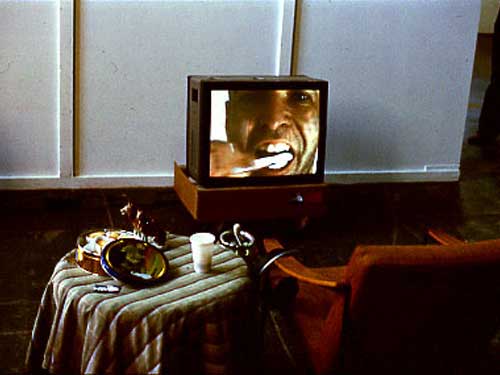 'Nature's threat' (left) and 'Smirnoff UnLtd' (right) are parts of the HelleVision program
HELLEVISION, the network with a mission.
In Italy Berlusconi were in charge of both the presidency and the media in Italy. And as a real puppeteer he once tried to cast Gerald Schröder for a motion picture. That seems an inspiring idea; bring art into politics!
Hellevision is an alternative to the so-called free press. We don't claim to tell a truth but visualise issues that we find worthwhile discussing and we do expose fear by exaggeration and by twisting the facts.
HELLEVISION 1st EDITION is based on ideas of conspiracies.
It was online broadcasted and first presented at the 'Op Schoot' Filmfestival 2004 in Maastricht. On this event 'experts', who were situated on different locations in Europe were on-line with a webcam to participate in discussions with viewers.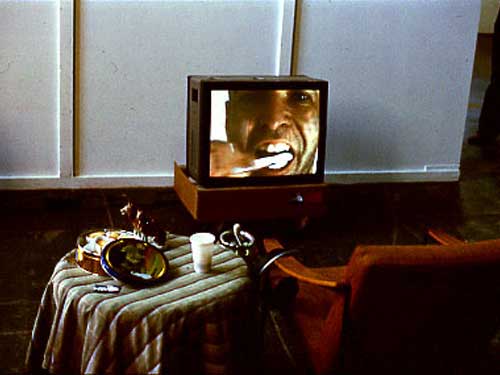 HELLEVISION 2nd EDITION is even more personalized politics.
It is 20 minutes news program with some commercials for non-products in between. HELLEVISION 2nd EDITION was presented at Kunstvlaai 5 in Amsterdam 2004. (right)
HELLEVISION, 2004
videoinstallation and web project
The collaborators are:
Helle Lyshøj: concept and visuals
Henrique Neves: performer and writer
Mandra Wabäck: scriptwriter and reporter
Laurens van der Heijden: historican and writer
https://hellelyshoj.com/wp-content/uploads/hellevision_at_kunstvlaai.jpg
375
500
helle
https://hellelyshoj.com/wp-content/uploads/titel-hjemmesidesort-2.png
helle
2004-05-26 11:26:41
2023-02-18 10:45:19
HelleVision