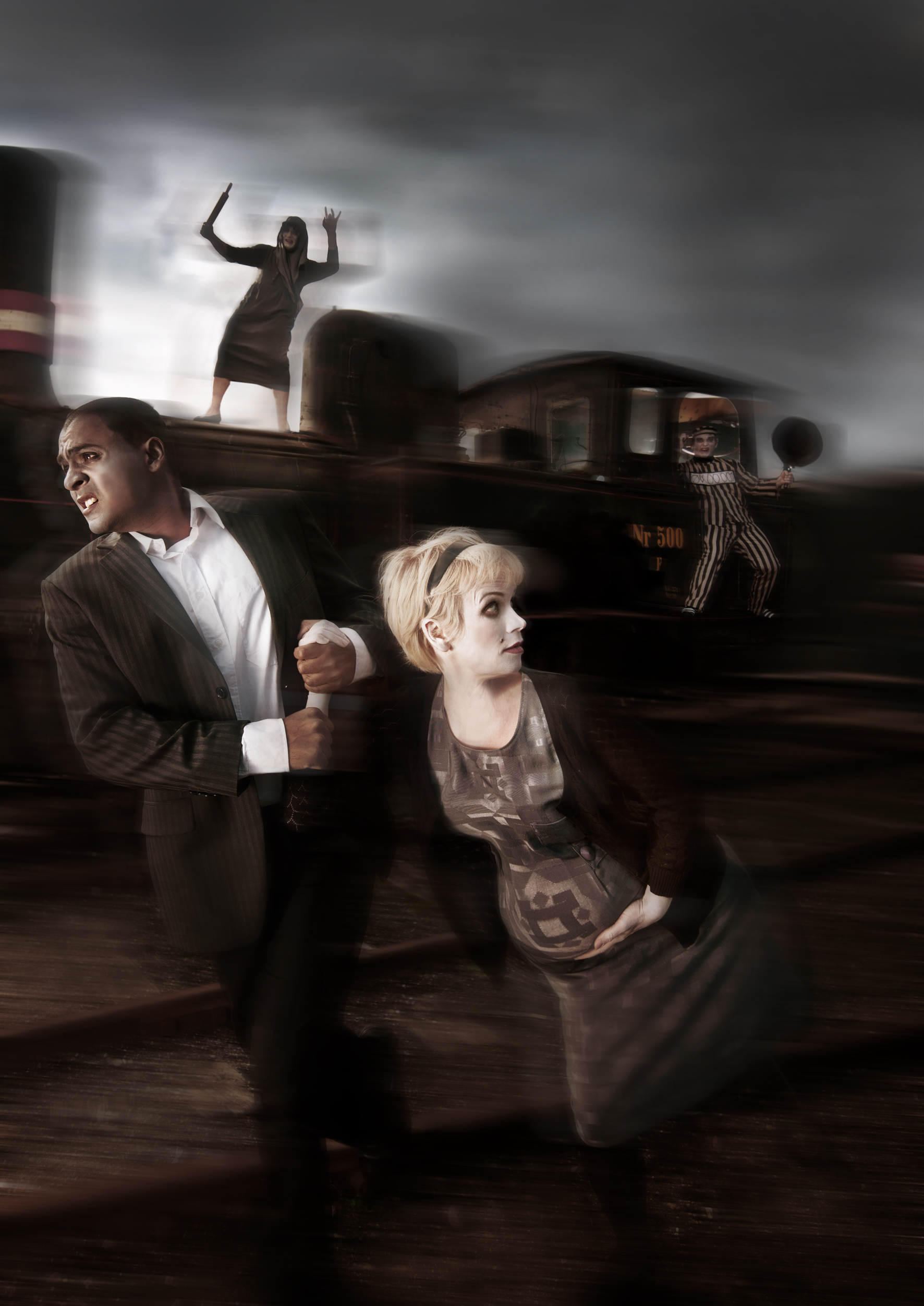 Restaged in English: 26 October – 18 November, 2012 at Taastrup Theater.

– A love story in silent movie pace
Kamal's parents want him to marry his cousin, "the beautiful Soraya", who is getting dangerously close to her last expiration date. Terrified, he flees and soon has a gang of pursuers at his heels.
Across town the very pregnant Maria is brutally assaulted by her ex-husband, who has escaped from prison. She takes flight with her ex-husband after her, and soon has her own group of pursuers, including a gang of immigrants.
The two refugees collide and hide in each other's arms, causing their pursuers to run past. They release their embrace and the scene is set for love at first sight.
But before they can have their happy ending, the two lovers must overcome great obstacles.

Laughter lies
Laughter goes through the audience at the show When Kamal met Maria in Taastrup Theatre, which has now been on its first tour in Denmark. The show is a nutty silent film comedy with wonderful piano boxing by Mathias Grove Madsen in evening dress. And just as the movie plays, the actors come forward in the flesh – the irresistible Stine Holm Joensen and the noble Joseph W. Nielsen – and then it becomes really funny. Niels Grønne from Danish Rakkerpak has delivered his funny street theater stunts to the story of an immigrant boy who meets a pregnant girl whose violent man has just been put in jail. And the madness is crowned by grotesque local color, because Helle Lyshøjs silent movie is filmed in Taastrup social housing as a maze-stage design. That must surely create an relief in the country's concrete free cities …

Anne Middelboe Christensen, Information (Danish newspaper).
November 26, 2012
A well-tested recipe for entertainment – paired with modern technology.
The show is in black / white and completely non- verbal with the physical expression in focus. It is told in the style we know from the old flickering and stuttering silent movies from the early 20th century America – simple, crude and universal. It's entertainment with equal parts coarse humor, slapstick and romance.

Silent movie and theater tableau… it is a pleasure to say that I am deeply impressed with the implementation of the performance. The relationship between film and theater – the Laterna Magica-illusion – is sovereign and accurate.

Janken Varden, børneteater avisen (children's theater newspaper). 2011
THEN KAMAL MET MARIA
premiered Nov 4, 2011 – restaged in English October 26, 2012
Writer: Niels Grønne
Direction: Niels Grønne og Torkild Lindebjerg
Cast: Josef W. Nielsen, Stine Holm Joensen, Niels Grønne, Torkild Lindebjerg
Composer and music: Mathias Grove Madsen
Film og film technique: Helle Lyshøj
Producer: Taastrup Theater
https://hellelyshoj.com/wp-content/uploads/23161.jpg
2505
1772
helle
https://hellelyshoj.com/wp-content/uploads/titel-hjemmesidesort-2.png
helle
2012-10-14 17:06:45
2022-01-04 11:45:40
When Kamal met Maria