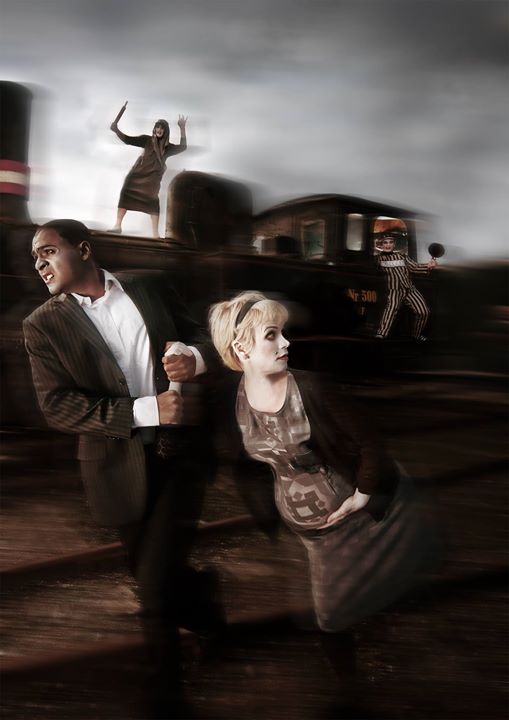 Københavns Musikteater October 28 – November 15, 2014
– A love story in silent movie pace.
Mohammed's parents want him to marry his cousin, "the beautiful Soraya", who is getting dangerously close to her last expiration date. Terrified, he flees and soon has a gang of pursuers at his heels.
Across town the very pregnant Maria is brutally assaulted by her ex-husband, who has escaped from prison. She takes flight with her ex-husband after her, and soon has her own group of pursuers, including a gang of immigrants.
The two refugees collide and hide in each other's arms, causing their pursuers to run past. They release their embrace and the scene is set for love at first sight.
But before they can have their happy ending, the two lovers must overcome great obstacles.

Out & Abouts anmelder giver 5 stjerner

Konceptet er enkelt: Et stort lærred, hvor der vises nutids-stumfilm, en lille håndfuld skuespillere, der det ene øjeblik spiller med i filmen, og det næste øjeblik er på scenen. Filmen på lærred i baggrunden fungerer samtidig som kulisse. Det er formidabelt lavet og kræver stor præcision. Hvert et klask eller slask skal ramme præcist, hvis det skal virke – og det gør det hele vejen igennem.

af Tonny og Claus Bønløkke Hertz (Out&About).
October 29, 2014
A well-tested recipe for entertainment – paired with modern technology.
The show is in black / white and completely non- verbal with the physical expression in focus. It is told in the style we know from the old flickering and stuttering silent movies from the early 20th century America – simple, crude and universal. It's entertainment with equal parts coarse humor, slapstick and romance.

MARIA & MOHAMMED
premiered Oct 28, 2014
Writer: Niels Grønne
Direction: Niels Grønne og Torkild Lindebjerg
Cast: Josef W. Nielsen, Stine Holm Joensen, Niels Grønne, Torkild Lindebjerg
Composer and music: Mathias Grove Madsen
Film og film technique: Helle Lyshøj
Producer: Dansk Rakkerpak
https://hellelyshoj.com/wp-content/uploads/10557501_699753856771910_6775206747836765997_o.jpg
720
509
helle
https://hellelyshoj.com/wp-content/uploads/titel-hjemmesidesort-2.png
helle
2014-10-28 19:31:25
2022-01-09 18:15:49
Maria & Mohammed