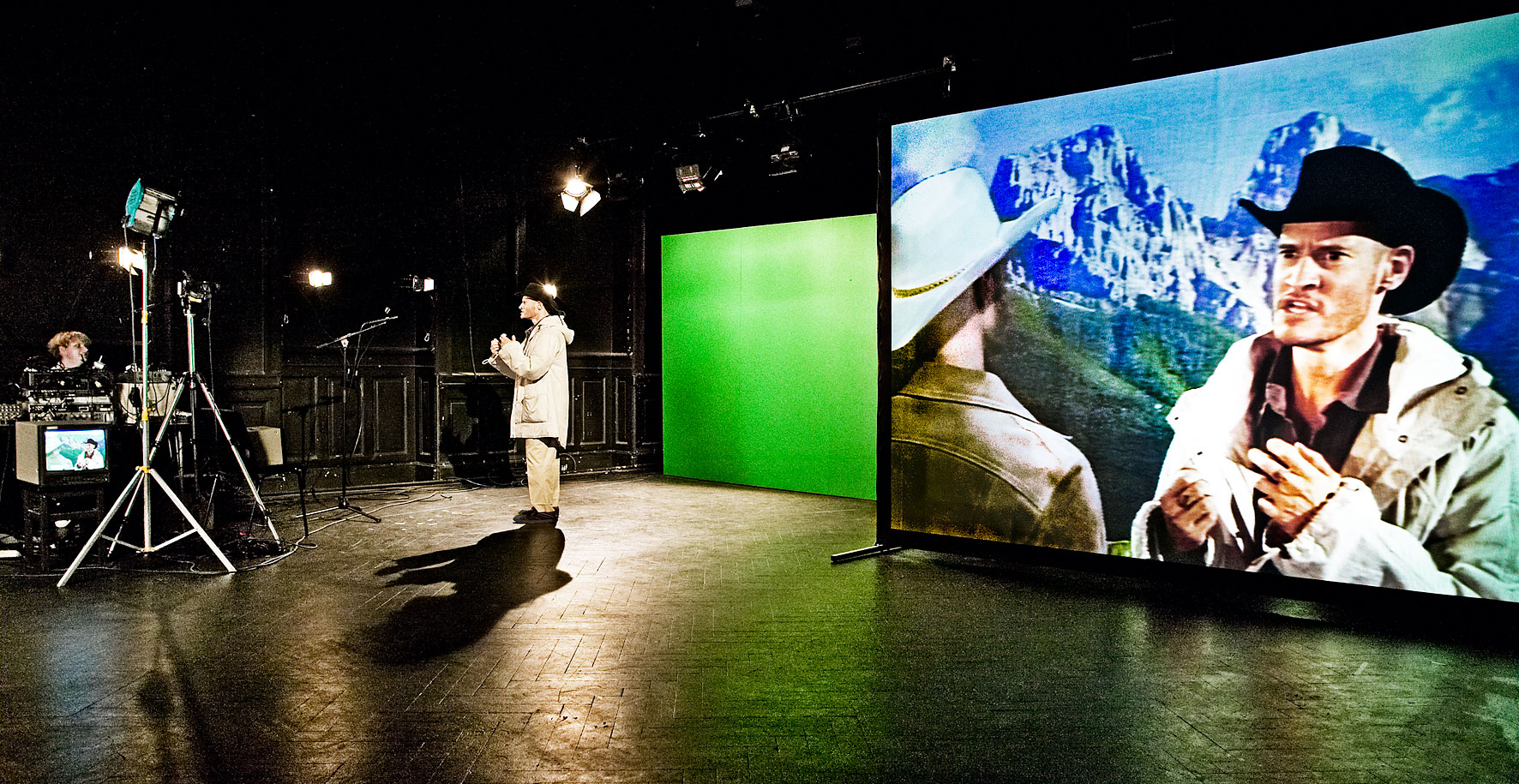 MasterCopy will be the ultimate unoriginal performance.
Everything in the show will be stolen, copied, sampled, quoted, recollected, reused, you name it, but it will be like a sparkling fresh new copy.
Erik Pold and his team are certainly a bunch of real, genuine originals.

Daniel Norback is glorious in the double role as Ingrid Bergman and Humphrey Bogart in "Casablanca" and Merete Byrial is wonderful as both bespectacled Woody Allen and young blond Mariel Hemingway in "Manhattan".


A performance that is both intelligent and humorous focuses on the concepts of original and unoriginal.

* * * * Vibeke Wern, Berlingske Tidende (Danish newspaper)
MasterCopy investigates what happens when you start copying on all levels of a theatre production. Three performers, an architect, a writer, a video artist, a composer and a designer explore different ways of copying, re-enacting, sampling and re-staging.
The idea is to avoid originality and authenticity: everything has been done or said before.
It is a mixed media-performance, and the use of video, live electronic sound and music is a vital part of the performance.
MasterCopy rejects the idea that art is only art when you can call it original – it debates the perception of the artist as being original and unique, and rather sees the artist as someone who sample culture, reconstruct, deconstructs, and in that way builds upon culture and the streams of information that runs through contemporary society.
It investigates some of the more recent devices within both visual art and performance: Re-enactment and Post Production.
But not without irony: the project is in some respect impossible: live performance is by nature never able to be a complete copy of something else, but we work hard to make it happen.
I can´t think of anything to say, so just give me the words, and I will repeat them.

Andy Warhol
MasterCopy premiered August 26, 2008 at Plex Musikteater, Copenhagen
The artists involved in MasterCopy are
Director and choreographer: Erik Pold
Performers: Merete Byrial, Daniel Norback, Jeremy Wade.
Video artist: Helle Lyshøj
Composer: Pelle Skovmand
Set designer: Rebecca Arthy
Writer: Majse Aymo-Boot
Designer: Rasmus Nordqvist
MasterCopy was supported financially by Kunstrådets Scenekunstudvalg (The Danish Artscouncil), Statens Kunstfond, Københavns Scenekunstudvalg, Wilhelm Hansen Fonden, Nordea Danmark-fonden, BG Fonden og Statens Værksteder for Kunst og Håndværk.
https://hellelyshoj.com/wp-content/uploads/mastercopy06mallemadsen2.jpg
915
1772
helle
https://hellelyshoj.com/wp-content/uploads/titel-hjemmesidesort-2.png
helle
2008-08-26 20:24:42
2023-02-18 10:42:34
MasterCopy