AFTERIMAGE
– a choreography for light.
AFTERIMAGE in Julidans Festival 2018.
Installations can be visited free of charge from July 3 until July 10 in the Salon (entire day) and the Koninklijke Foyer (only around performances) of the Stadsschouwburg Amsterdam.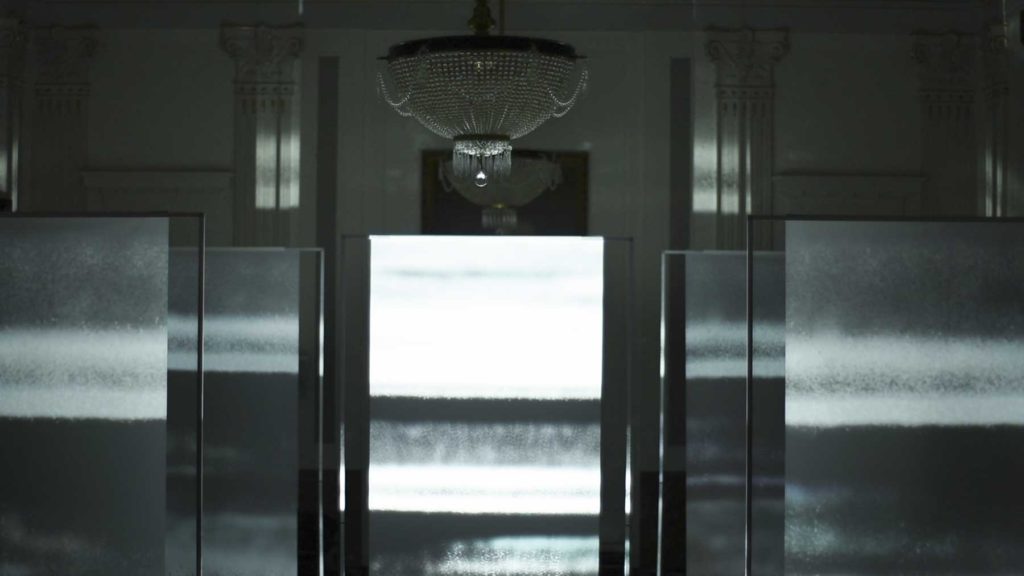 AFTERIMAGE is durational installation with light, video and sound (14 minutes loop)
A collaboration with video artist Susanna Brenner (DE, NL), video artist Helle Lyshøj (DK, NL) and lighting designer Minna Tiikkainen (FI, NL)
In principal all three of us are working with light, but our media – namely conventional theater lights and video – are most often co-existing in a polite collaboration by trying not to disturb each others qualities on stage. In this installation our starting point is to bring video and light into a dialogue where the light of these sources is merging into, rather than trying to avoid each other.
We have found a working theme under the phenomenon of AFTERIMAGE. Besides the psycho-physiological phenomenon of afterimage, the name could also be understood as AFTER THE IMAGE which for us works as inspiration and strategy for a "choreography for light".
We work on abstract forms as circle and lines since it helps us to concentrate on spatiality outside of narrative meanings of images. For the same reason we try to keep the video material black and white. One of the main study for us is the concept of movement and we try to move the space in different ways, horizontal, vertical, zooming in and out etc.
credits:
concept and space: Susanna Brenner, Helle Lyshøj, Minna Tiikkainen
light: Minna Tiikkainen
video: Susanna Brenner, Helle Lyshøj
sound: Susanna Brenner
photos by Bruno Freitas de Oliveira